About Me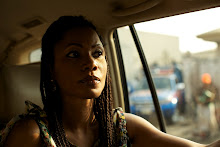 Funmi Iyanda

Lagos, Nigeria
Funmi Iyanda is a multi award-winning producer and broadcast journalist. She is the CEO of Ignite Media and Executive Director of Creation Television
View my complete profile
Sunday, November 05, 2006
Sunday, November 05, 2006
|
Posted by Funmi Iyanda
|
|
Edit Post
Last week in the senate some joked, at least l thought it was a joke. He said, Borisade must be sacked, if he cannot be sacked then let him be moved to ministry of culture or something like that. Lo and behold it happened! He was swapped with Fani kayode at culture and tourism. All l can say is l don craze finish (ori me ti yi tan). Fani Kayode and l were founding members of the defunct Progressive Action movement (lets not go there today) and my thoughts of Fani Kayode are that he is a fine Queens English speaking, debonair man. His highest public achievement up to date is his rabid loyal support for all and every that concerns president Obasanjo combining in one breath Remi Oyo, Frank Nweke and Runsewe's jobs in one grammatically correct, pheonerics spewing diatribe at all and any who dares oppose OBJ be they Soyinka, Gani or mama risi by the road. No one is too mighty or small to take on. When he became culture minister, l sent him a congratulatory text. Why? He never try? He deserved something for all that hard work now. At least now he doesn't have to try so hard to prove his loyalty and can concentrate on a particular assignment that has great potentials. I've often wondered why he tried so hard though, could it have anything to do with the fact that before he was appointed special adviser to OBJ he was a rabid, loyal antagonist of OBJ? I still have in my library live TV interviews l did with him where he lambasted OBJ and his policies. I recall him calling me and asking to be interviewed to give vent to such. Strange that but then a man can be allowed a drastic change of heart, people get born again everyday especially in "godly" Nigeria.

Since he became minister he has been less vocally controversial perhaps hunkering down to tackle the highly underrated, under funded, culture and tourism (two distinct entities if you asked me) ministry. One visible contribution thus far to that ministry being the much locally publicized, internationally ignored independent Nigeria rocks concert where the extremely rich and mostly old rocked to the music of celebrated international rap, R&B and pop artists. Unfortunately we will never see how much more he can do, he is now aviation minister.

As an old friend l wish him luck, as a rightfully air phobic Nigerian l truly wish him success. If he can convert his rabid loyalty to one person into bulldog tenacity of purpose to one cause, i.e. sorting out the mess (don't bother with building it o, time too short) in the sector, he would finally deserve the love he craves.

As to sending Borisade to culture and tourism l revert to my favourite book of Fela wisdom he he he ha ha ha, why l dey laugh? If l no laugh, l go cry.
If you must know, ministries of sport, culture, tourism and anything to do with entertainment are traditionally reserved for bored, retired, military officers, disgruntled party loyalists and the generally unaware and unimaginative. Shame really since these are multi billion dollar industries but how do you expect people who think a mouse pad is used to catch rats to know that.