About Me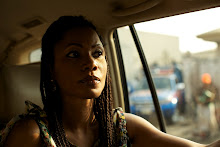 Funmi Iyanda

Lagos, Nigeria
Funmi Iyanda is a multi award-winning producer and broadcast journalist. She is the CEO of Ignite Media and Executive Director of Creation Television
View my complete profile
Thursday, November 06, 2008
Thursday, November 06, 2008
|
Posted by Funmi Iyanda
|
|
Edit Post
Please stop and watch
this
.
It happens all the time but this time someone has it on tape (okay they had the atiku one on tape too but that was then) and we are angry and organizing.
This latest madness was brought to my attention a few days ago and in that time l have spoken with, contacted and got the support and commitment of over 30 top editors, media personalities, reasonable politicians, civil organizations and activists to step up and stand against this.
I hear they are trying to resolve this "internally", but l say no this is not about an individual but about what we will or will not accept as a nation.
Please raise a voice and join a call for swift and severe punishment to
this
unadmirable admiral and to send out a warning to his ilk.