About Me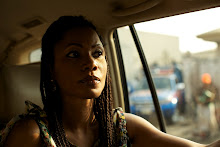 Funmi Iyanda

Lagos, Nigeria
Funmi Iyanda is a multi award-winning producer and broadcast journalist. She is the CEO of Ignite Media and Executive Director of Creation Television
View my complete profile
Monday, November 27, 2006
Monday, November 27, 2006
|
Posted by Funmi Iyanda
|
|
Edit Post
Tee A and l were compeers at city people's fashion digest awards recently. The theme was Ankara so there was a kaleidoscope of blinding colours and prints. There were also presentations by Regalia, Tiffany Amber, (sumptuous wearable clothes) and Adebayo Jones (flawless, timeless high fashion). I do not like to compeer events as they are usually badly organized and the MC who is up front trying to make sense of the chaos is usually the fall guy. There is also the protocol list with everyone and their cat wanting to be announced. Finally is the wahala with looking the part for me. The slinky black and white dress by that gentleman of fashion Frank Oshodi requires that one should not breathe, sit or pee.
Seriously you can only take it off from top to bottom and with assistance to untie the shoe laced plunging back, so that meant that l could not drink water or eat (tummy will bulge man) plus my six inches Zannottis were killing my back but the result is often worth the pain which my brethren and sistren is the true cost of looking good, pure pain. I did change into another dress, which allowed bodily functions, an elaborate beautiful Ankara and French tulle ensemble by MOMO but you cannot imagine the weight of the skirt and l kept praying that l wont trip on it. All in all though, it was a good night and magazines like city people, ovation, Thisday style and all the rest have helped to promote a burgeoning fashion industry in Nigeria, yet another area waiting to explode if we would just get some basic enabling infrastructure and policies right.
Most of the pictures are from backstage, wont show you the juicer ones though, and the hand grabbing my arm in one of them belongs to a photographer. Here they "handle" you into the picture. My attitude? I'm doing my job, they are doing theirs. Peace to the world.
More of the pictures can be found
here