About Me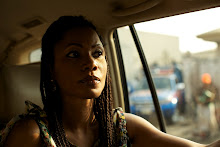 Funmi Iyanda

Lagos, Nigeria
Funmi Iyanda is a multi award-winning producer and broadcast journalist. She is the CEO of Ignite Media and Executive Director of Creation Television
View my complete profile
Tuesday, December 05, 2006
Tuesday, December 05, 2006
|
Posted by Funmi Iyanda
|
|
Edit Post
It was a usual Thursday morning, frenzied, bloody minded, not shifting grounds in her desire to grind me to pulp. My brain is fried and I'm assimilating nothing as l mechanically drop my daughter off at school, catch up on the news and read my show research materials whilst going through the usual mind bungling traffic to the studio. Everything that could go wrong did, from lights to cameras and late egotistical guests. I'm exhausted and wondering why l still do this show when the director calls out; cue her! I go into autopilot and begin to do the show. It was a show about the Liberian refugees who are returning home. My first encounter with Liberian refugees was a lady and her nine-year-old daughter whom my father took into our dingy flat in 1987. The Jehovah's witnesses were supporting other witness refugees so we had to share our meagre resources with them. It was tough going but the little girl was so lovable and would entertain us with eerily realistic sounds of machine guns. As a callow youth myself l never realised the kind of horrors that poor child had witnessed to develop such a skill. My mind absently registers this as l read the show brief which did not include Doris, however l always look for stories that highlight the issue so l concentrated less on the officials and began to talk to Doris.
Slowly an incredible story emerged. As Doris began to talk l was transfixed by her bearing, she was neatly dressed and self contained radiating a humble human dignity that was attractive to me.
In halting tones she told a story of how her entire family including parents, siblings and a daughter was killed during the war, how her husband was killed in their hideout and how she ran with a four-month pregnancy until she was rescued by ECOMOG soldiers who put her on a ship to Nigeria.
In Nigeria, she squatted from place to place and worked as a street sweeper, dishwasher and street hawker finally ending up selling food under a bridge. She spoke about being taken advantage of by men and sleeping out on the street until she got to the stage where she is now sharing a room with another lady and selling pure water (water in little sachets). Through this, she managed to put her daughter born in Nigeria through private school such that the gifted child is in the middle class command secondary school in lbadan.
Through the story, she spoke with stoic assurance underlined with a tinge of sadness and l sat there humbled by this little woman. Then she dropped the clincher! She had in fact left a two-year-old daughter in Liberia in 1989 when she ran. Recently she got news that the daughter was alive in Guinea and she was saving money to go and find her daughter.
My heart broke and so did my tear ducts. I struggled with tears on TV as l promised that l will help her find her daughter, whatever it takes l will. As l hugged her and wrapped that show up, l nodded at the universe for the reminder. This is why l do the show.