About Me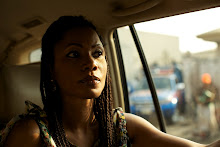 Funmi Iyanda

Lagos, Nigeria
Funmi Iyanda is a multi award-winning producer and broadcast journalist. She is the CEO of Ignite Media and Executive Director of Creation Television
View my complete profile
Friday, November 24, 2006
Friday, November 24, 2006
|
Posted by Funmi Iyanda
|
|
Edit Post
Okay I'm writing this article in my head. I'm in the shower peering through the mirror at the angry rash on my face and body, benign chastisement from my body for the excesses of South Africa. The hot water lashes at my back even as hot sunlight streaks in through the parted curtains and the last bars of the Phantom of the Opera soprano screams a surround (read that to mean five antiquated speakers wired into my bedroom, bathroom, study and micro gym enclave, my friends warn me that l shall expire of electrocution if l don't get rid of the contraptions and get one of those cute itsy wireless surround sound things but l love my eccentric assemblage) crescendo to my delight and my neighbours dismay. Fortunately my nearest neighbour is the equally eccentric Yemi whose guitar playing and drumming from his eclectic compound has exasperated and delighted me in turns since l moved here four years ago.
As my smart play list (love Apple, will marry Steve Jobs one day) strikes up the cords to Weird MC's IJO YA, l jump out of the shower and begin prancing in front of my full length mirror shaking my poor specimen of an African backside in imitation of the animated women in the track's lovable video and the lovely bootylicious women of South Africa. If l can sum my trip to Cape Town in four words, they will be arse, films, food and wine. Now boys, boys don't get excited yet, the explanation is less colourful than it sounds.

I woke up the day after my arrival to a raging flu, my body having succumbed to the pressure I'd been on recently and the incredible winds of our first day in Cape Town. Me, l no de gree so l wear black footless tights, bodysuit, wrap dress and scarf (in the height of summer o) eliciting a few weird Osofia in London (Nigerian new arrival in London comedy character) looks from people. I do not take note as l focussed on going to Robben Island with Tunde Kelani (TK), Makin Soyinka, Onoshe Nwabuikwu and Sekinat. It all started to go wrong when Makin suggested we stop at his place for breakfast. He had fried up a heartbreakingly (also heart attack worthy) sinful English breakfast and of course excellent wine and champagne to go. I beseech Makin to start a food and wine magazine, thus exceptional is his talent. By the time we polished the lot, it was midday and TK insisted that there was a great African movie being screened in the Township as part of the festival, a must see. We postponed Robben Island and got in a taxi l had hired for the day driven by a toothless Methuselah with the instinct of a Lagos area boy. After getting lost once and being taken through the longest most convoluted route we arrive at the makeshift hall in a place bearing close resemblance to Amukoko. The technical hitches were reminiscence of an NTA live broadcast of a PDP rally but when the film started, nobody moved from the first scene to the closing credit, not a few hands were surreptuosly wiping away tears, my face was unabashedly wet. TK was right, what a wonderful film, a thriller about an asylum seeking family from the Congo who just wanted to settle into a new life in Dublin leaving the demons of their past behind. Problem is the demons will not be so easily rested and nothing is actually what it seems with this family. The acting was superb including Hakeem Kae Kazim from Hotel Rwanda and Lost and the lead actor France based Cameroonian star Eric Ebouaney who was in the audience and took the question and answer session. Eric is classy, urbane, debonair and connected to his roots. The film, low budget, simply but creatively shot. I recommend it strongly. Oh yes, it is called FRONTLINE by David Gleeson

By the time we got to the city and called the Robben lsland Tour booker, we found out that the tour is booked solid through summer, we in our usual unconscious 9ja (Nigerian) way had assumed that no planning was required, you just get there and go.

Well since l had a cold and l could not go to robben lsland or do much running around l decided to located myself at the mall on the water front where l can watch the movies on the screening list, eat and drink and watch the women go by.
Now before you start getting ideas, l am heterosexual (as though that calls for a medal) but l am fully able to admire other women without envy, a personality flaw that l thoroughly enjoy.
Now somebody please tell me what the women eat in South Africa. I had noticed it on previous trips but never as much as now perhaps because of the unashamed amount of food and wine fuelled time l devoted to it. All the women have backsides to die for, from the cutesy little five year olds to the big mamas, regardless of colour, station, creed or race. I saw Caucasians with arse, Indians with arse; heck l even saw a Chinese woman with arse. Even the skinny gals got arse. I am not talking about any old cellulity, runny eggs hippy arse o. These are big, flesh and muscle arses wide on the hip and high on the rear, proudly holding up such tinsy waist and often full chest. The women are a delight to watch, their arses often irreverently encased in custom made in SA (the thin obsessed west cannot be designing for this beauties) jeans regardless of age as they walk on by with their often curiously puny men. Makin, Tk, Onoshe and l spent a few lazy afternoons in serious intellectual contemplation of this observation as we sample the insanely cheap and ridiculously excellent cuisine and wine.
I had a three course meal with the freshest mussels, queen and king prawns, calamari, oysters and a lobster some cooked in a gorgeous herby wine sauce and the rest grilled to juice dripping perfection with baby potatoes and the most crisp red sauvignon all for about $35! Yes seriously. I am forever frustrated by the pretentious restaurants in Lagos charging a fortune to serve marinated saw dust and otokoto wine and l will never understand people who step of out Nigeria and begin to demand Eba and Apu especially when they are going back home in four days. I have two Akwa lbom ladies in my house so l do not lack gourmet Nigerian food and l have stopped trying to find a great restaurant in Lagos (there are a few so so ones) but the best eating out experience in Lagos as agreed by Makin a connoisseur of film, food, wine and…ok l promised him l wont say, are the mama put joints. God bless Iya Eba in Onikan and nobody can beat the mama put joints in Cotonou, Lome and Togo, se bon! Okay as you can see food excites me. Aside the women, food and wine. The other things we did as l said was watch the movies at the festival and there was a rich selection covering different themes. My favourites were the afore mentioned Frontline, Tunde Kelani's Abeni, excellent acting, simple love story and excellent photography and cinematography on a low budget. There was also A Good Year starring the bad but wonderfully gifted Russell Crowe, flawless acting, and beautiful scenery, cutting edge, brilliant dialogue in a sensuous French setting. Finally there was the inimitable Pedro Almodavar's Volver which l had seen earlier in London's sexy ritzy cinema in Brixton. Penelope Cruz at her best in her native tongue, a simultaneously dark and sensual tragicomedy about family, superstitions, secrets, incest, murder and sacrifice. A real visual treat.
There were of course the usual meetings and discussions, the most intense being on whether Nollywood needs standards or not, l didn't attend. Like everything else Nollywood has immense potentials, every waiter that attended to me whether white or black asked after AKI and PAWPAW but Nollywood will never be taken seriously or make the kind of money it should unless we apply a little literature to the film making. Anyone can use a pen, not many can write a poem. That aside from issues of distribution, marketing, and so on but make dem just dey go on soun (keep at it) eventually the boys will be separated from the men. That of course was what happened as we all departed one after the other, makin and l sharing a last bowl of chips and glass of wine as we flew to Johannesburg, he onward to Kenya, myself and Seki to Lagos. I ate my last heavy meal and drank a glass of wine and reclined my Virgin Nigeria seat into a bed to sleep before Lagos slaps me in the face and my lactose, wheat and alcohol intolerant body completes her revolt, the first rashes are already visible. Fours hours later we land and the pilot apologetically announces that the tow truck has over heated so we are going to wait for it to cool down before the plane is towed to the hanger for us to disembark. I smiled and relaxed in my seat, l am home.