About Me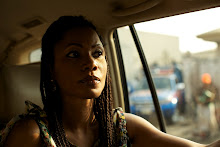 Funmi Iyanda

Lagos, Nigeria
Funmi Iyanda is a multi award-winning producer and broadcast journalist. She is the CEO of Ignite Media and Executive Director of Creation Television
View my complete profile
Tuesday, November 07, 2006
Tuesday, November 07, 2006
|
Posted by Funmi Iyanda
|
|
Edit Post
So Madonna's attempt to adopt an African baby developed k leg. I don't get it. Wasn't baby David supposed to be an AIDS orphan, one of the tragic statistics of a continent ravaged by AIDS where most of the adults are dead or dying leaving kids to raise kids? When did baba David resurrect? I am generally uninterested in the shenanigans of the over rich, over pampered western celebrity. I think they should shut up and sing, dance, act, party, kick the ball or whatever it is they are overpaid to do. Yeah well except Bono. Bono is sexy. I like Madonna especially in her material gal days, this maternal gal Madonna confuses me and the arm muscles scare me but the black baby backing African Madge vexes me, that is one photo op too many men! Ironic that she is blaming the media for the cock up on the adoption, why, pray tell were there that many cameras covering every angle of the story? Isn't that the real story? Even the great philanthropic media manipulator of the noughties, Angelina had enough sense to start small. Her first forays had low level media attention and adopting Maddox was quiet enough and even to my jaded mind genuine and unforced. She only got high on the extra sex appeal of being a sexy (god she is, she is, a little less so with that brad person tailgating her) connected, compassionate superstar but it was a process. Madonna cant just jump to the end result. This in a continent that has a lot of genuine charity workers from all over the world working silently.

My director was doing the typical Nigerian thing cursing the Malawian father for disgracing Africans before the West. What arrant rubbish, since when has the actions of one confused (who no go confuse under all that camera lights) Malawian peasant represented the whole of Africa?
The very fact of this entire goings on underlines the tendency of the West to over simplify Africa into a meaningless footnote. Once it was the pictures of war and famine, now it is the faces of Aids. The celeb with starving baby pictures have been replaced by the celeb carrying, kissing and backing cute African orphan pictures. Famine, drought, genocides, Aids and death happen in Africa as in other places but that is not the total picture. Africa will benefit more from a more rounded view of herself such that other people see that although she has her problems she is an entity like them that can be engaged for business, pleasure, science, philosophy and culture.
One of the problems of the west is the lens through which she sees Africa, which is by the way not a village in Zulu land but a vast continent of people of diverse cultures and backgrounds.
Africa does not need AID, she need disengagement and then reengagement. The west needs to stop encouraging and supporting the most unimaginative and imbecilic amongst Africans at various leadership positions so that they can transact business in the most profit magnifying way. Read the Next Gulf on Nigeria's oil crisis. The West needs to understand Africans and their ways rather that impose a western way. Most of the Aid that comes to Nigeria is wasted as it is passed through beaurocratic systems that pander to western egos, which are however deeply flawed, unconnected to the people and sometimes downright fraudulent. The conduits are usually people who understand the western red tape and have put structures that the west can relate to in place to defraud both the west and their own people. All these they do whilst grinning the likeable African idiot grin in colourful attire that so resonate with the West.
If the west saw Africa and Africans as human equals, poorer as many are in Eastern European and Asia but equal, they would never have stood by and watched Rwanda happen. If the west engages Africa on those levels (and elephants will fly) then we might begin to see true poverty eradication. Meanwhile, let us keep battling our west supported demons whilst we enjoy the exotic spectacle of yet another white woman playing Mary Slesssor with cameras.