About Me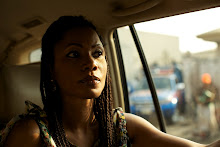 Funmi Iyanda

Lagos, Nigeria
Funmi Iyanda is a multi award-winning producer and broadcast journalist. She is the CEO of Ignite Media and Executive Director of Creation Television
View my complete profile
Sunday, November 12, 2006
Sunday, November 12, 2006
|
Posted by Funmi Iyanda
|
|
Edit Post
I don't know Donald Duke from Adam and l have never interviewed him but barring the declaration of any clearly outstanding Nigerian, he has my vote as the next president of Nigeria. I don't think he will win, sadly. First as to why he should win. Going by his record in cross rivers state in the past eight years, one can see that he is creative, courageous and inspired. Nigeria needs that. Also he seems to have the will and the organizational ability to carry through his projects and to persuade people to see the merit in them. No one can dispute that he has turned that little non-performing state into a functional, liveable tourist attraction. The fruits of which will not be completely manifest until later. Importantly, he is husband to one woman, who does not look like a dormant or an under qualified but over ambitious paranoid shrew. I am in the media and have witnessed or been regaled with stories and first hand encounters of the sexual exploits, bestial tendencies and complete degradation of often silly, poor or clueless young women by governors and other elected or appointed government personnel. Question, how many men in government today have not taken a second, third or more wives and had children by mistresses during their tenure? I don't expect that Duke is a saint but l, ve never heard any such stories about him. If he strays, he is discreet about it and that is all we ask for. That he clearly wears and displays his wedding band is an asset, which would resonate with female voters. He also looks the part; he is young, vibrant, fun, good-looking and not fat. We are sick and tired of the pot-bellied men with their ugly mugs. Yes ugly people need love too, go to Dr Phil. Jokes apart good looks are not about having Donald's pleasing features but taking care of yourself in terms of lifestyle. Those who live healthy fit active lives give off an attractive, alive aura that is charismatic and good-looking even if their face was arranged by a pmsing angel.
People argue that running a little Cross Rivers state is not the same as running Nigeria, l agree but he that is faithful in little can be trusted with more besides all the bandits that have ruined our lives before now did not have any track record of success at anything including their families and we not only allowed them, we were hopeful for some magic. Why not someone who has actually done something other than feral politicking.

Now having said all that, l don't think he will win because we have not reached that stage where people will vote on merit only and we do not have a system yet that will elect a candidate mostly on merit. That the 2007 election will be completely free and fair is a pipe dream but that's ok. The challenge is to engage the system and begin to change it before even perfecting it, which will take years, that is natural. So the practical (often ignored) part of my brain says Duke should run as vice president to whom l don't know for now. The reason is that if he looses the presidency now, it will be hard to contest for anything else in future but as vice president, even a lame duck one he will be gathering invaluable experience and clout that will serve him in future bid for the presidency. That's my rational mind but my adventurous, creative spirit says run man and keep running until you get it.